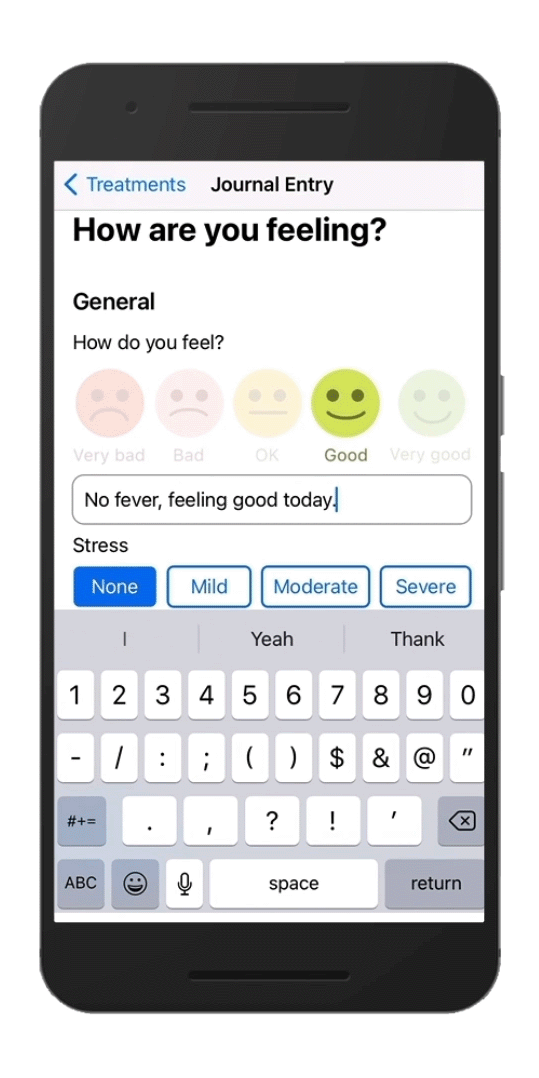 Empower yourself.
Own your health story.

Write It Down
Keep tabs on how you feel and how you sleep with our simple, distraction-free editor.
Integrate Current Apps
Syncs with your Apple Watch for steps, sleep patterns, environmental changes, and more.
Spot Trends
Easily spot health trends that occur over time with our robust reporting.
Communicate With Your Doctor
Don't forget a detail come appointment time. Send reports to your care team with one click.
From a doctor…
"Every patient's journey is unique, and I want every patient to be able to tell their story. Journal My Health helps patients take a more active role in their recovery by tracking, organizing, and presenting their information and experiences.

This can lead to new clinical insights and improve communication, allowing both doctors and patients to get the most out of every encounter."
– Dr. Marta Becker, Board-Certified Otolaryngologist
From a patient…
"Rather than forgetting key details when I visited my doctor, or neglecting to mention something that seemed unimportant, Journal My Health empowered me to create a detailed, holistic portrait of my health.

Before using the app, I was recording what I could in a note-taking program, but it was time consuming and limited. Journal My Health has streamlined the process and greatly expanded my options while simultaneously pulling health data from my smartwatch."
– Deborah Fields, Beta Tester
Why We Created Journal My Health
Tracey Welson-Rossman has been on her own health journey.
20 years ago, she became a patient with chronic pain. Since then, she's understood how important communication of her condition and environmental factors were to her doctors and care teams. This communication has allowed her to be relatively pain-free for the last 5 years.