While many Americans can see the end of the pandemic in sight, for those who contracted COVID-19 and have developed chronic health conditions as a result, the pandemic's effects will linger for a while.
As scientists continue to learn about these patients — long haulers, as they're often called — Tracey Welson-Rossman of Chariot Solutions and TechGirlz has launched a tech tool to track and learn from these ongoing symptoms.
Journal My Health, an app for long haulers and others with chronic health conditions, just launched to iOS users last week. The startup's product tracks a person's symptoms in journal form, integrates data from other health apps and helps report patterns to a patient's healthcare team.
The idea came to Welson-Rossman last summer. Before the pandemic, she faced her own set of chronic health issues, but as even healthy, young people began developing severe symptoms after recovering from COVID-19, "we realized its a crisis, and it's only going to get worse," she told Technical.ly. About 10% of people experience some form of long-hauler COVID-19 who are effected, an early study found.
The app is designed to be used like a diary or log of a person's symptoms, tracking things like pain, shortness of breath or even how someone's generally feeling on a given day. It integrates with other biometric devices, like a Fitbit, and provides a more complete picture of a person's health. Even outside environmental factors, like temperature, humidity and barometric pressure tracked.
When it's time to visit the doctor, a patient can download or print out their log of symptoms. The goal is to be able to have a data-driven conversation with their health provider with extra details often forgotten or untracked in a normal visit.
"It makes some patients feel more credible when they visit their doctor because they're coming with the data," Welson-Rossman said. "Doctors tell us 'we have 20, maybe 30 minutes with patients,' and having that conversation with them while being able to look at that info quickly with a notes section leads to more productive care."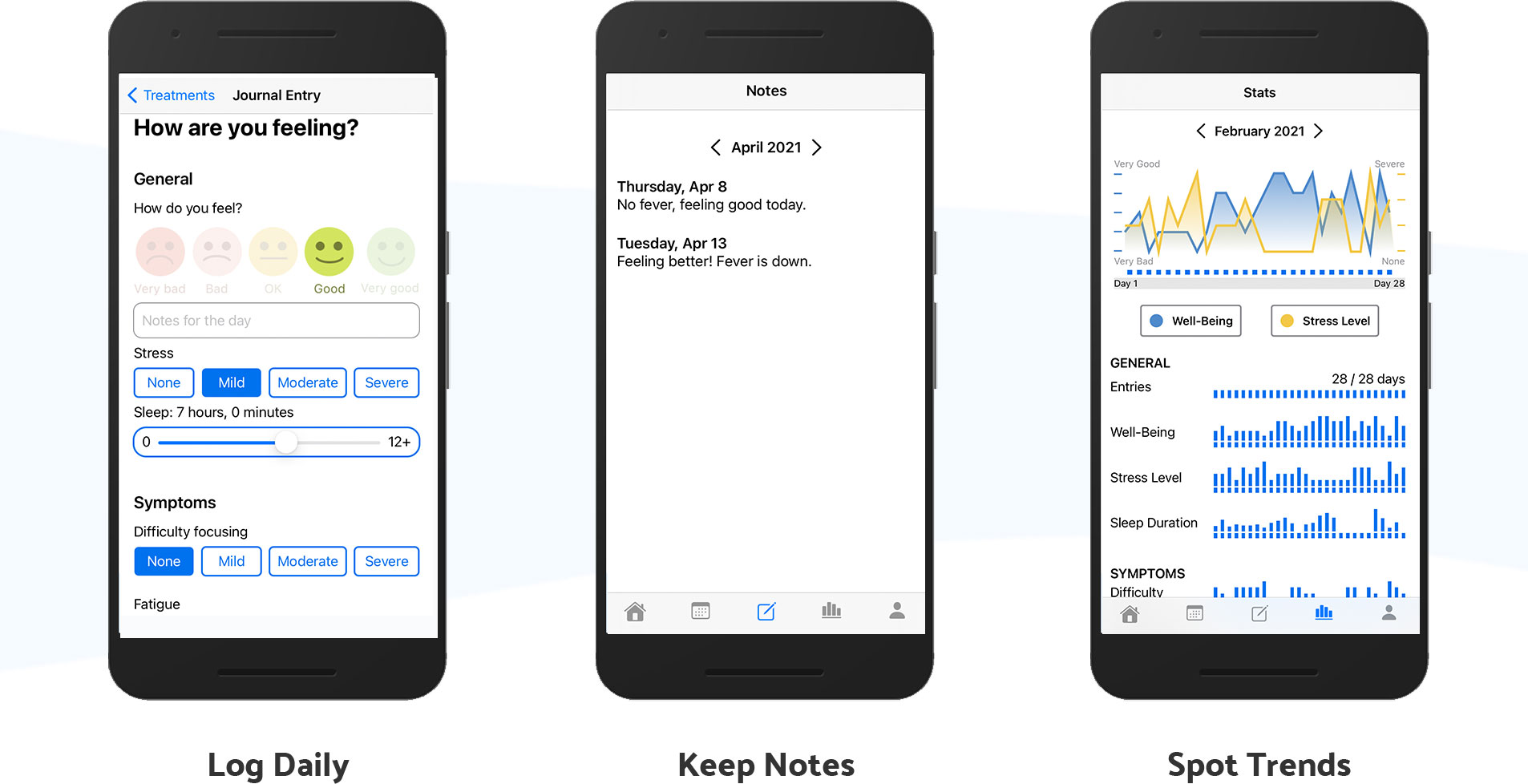 A source of direction when building the app was Deborah Fields, a woman Welson-Rossman knew through TechGirlz who has been experiencing long-haul COVID-19 symptoms. Fields became a beta tester of the app and had been recording what she could in a note-taking program for when she sought treatment.
"Rather than forgetting key details when I visited my doctor, or neglecting to mention something that seemed unimportant, Journal My Health empowered me to create a detailed, holistic portrait of my health," Fields said in a statement.
The Journal My Health app was built by Chariot Solutions, the IT consulting firm where Welson-Rossman is CMO, but she said it plans to operate as a separate entity. She's currently working with Dr. Marta Becker, an ENT specialist who's begun to see long-hauler patients. Becker is the company's chief medical officer, while Welson-Rossman is the CEO.
The pair began working on the app at the end of last year, and after about four months, they released it to the Apple store last Wednesday. (The app's tech stack includes AWS' API Gateway, Lambda and RDS in the backend and Swift and SwiftUI for the frontend.) An Android version is expected to be coming soon, Welson-Rossman said, and she's expecting to begin fundraising shortly. While the app is currently focused on long-haulers, it will ultimately serve as a digital tool for a variety of chronic illnesses.
"It's a start," Welson-Rossman said of beginning to understand long-haul COVID-19. "There's so much unknown about it that having a tool to help these patients track their info is going to be so important."
---
Original article posted by Paige Gross in Technically Philly on May 6, 2021.