Apple recently announced new tools for its Health app as part of the iOS 17 update that allow users to log their daily moods and emotions. Positioned as a mental health tool, it has the potential to be used more broadly for health journaling. It kicked off a round of emails from users, supporters and investors all asking what it means for Journal My Health.
Well, we're glad you asked: it's incredibly validating, terribly frustrating and ultimately a win for us…both in the near and long term. More on that frustrating part in a bit.
Big Endorsement for Journaling
First, it's wonderful to see Apple making strides to support users' mental health and endorsing the role of journaling to do that. Along with all our users, we know firsthand the power of journaling to deliver health insights that might otherwise be missed by individuals and their health providers.
The practice itself has been reinforced by studies like one from Pew Research showing that 69% of people track some type of health indicator and that nearly half said it makes them feel more in control of their health. Our own surveys have shown similar levels of tracking and that 58% of Journal My Health users share data with their healthcare providers.
But to have a trusted brand like Apple weigh in with support for journaling as a way to advance one's health is a different animal altogether. It has the potential to create enormous momentum in support of the practice. We're excited to see the reaction from users and hope that this encourages even more people to begin chronicling their health experiences.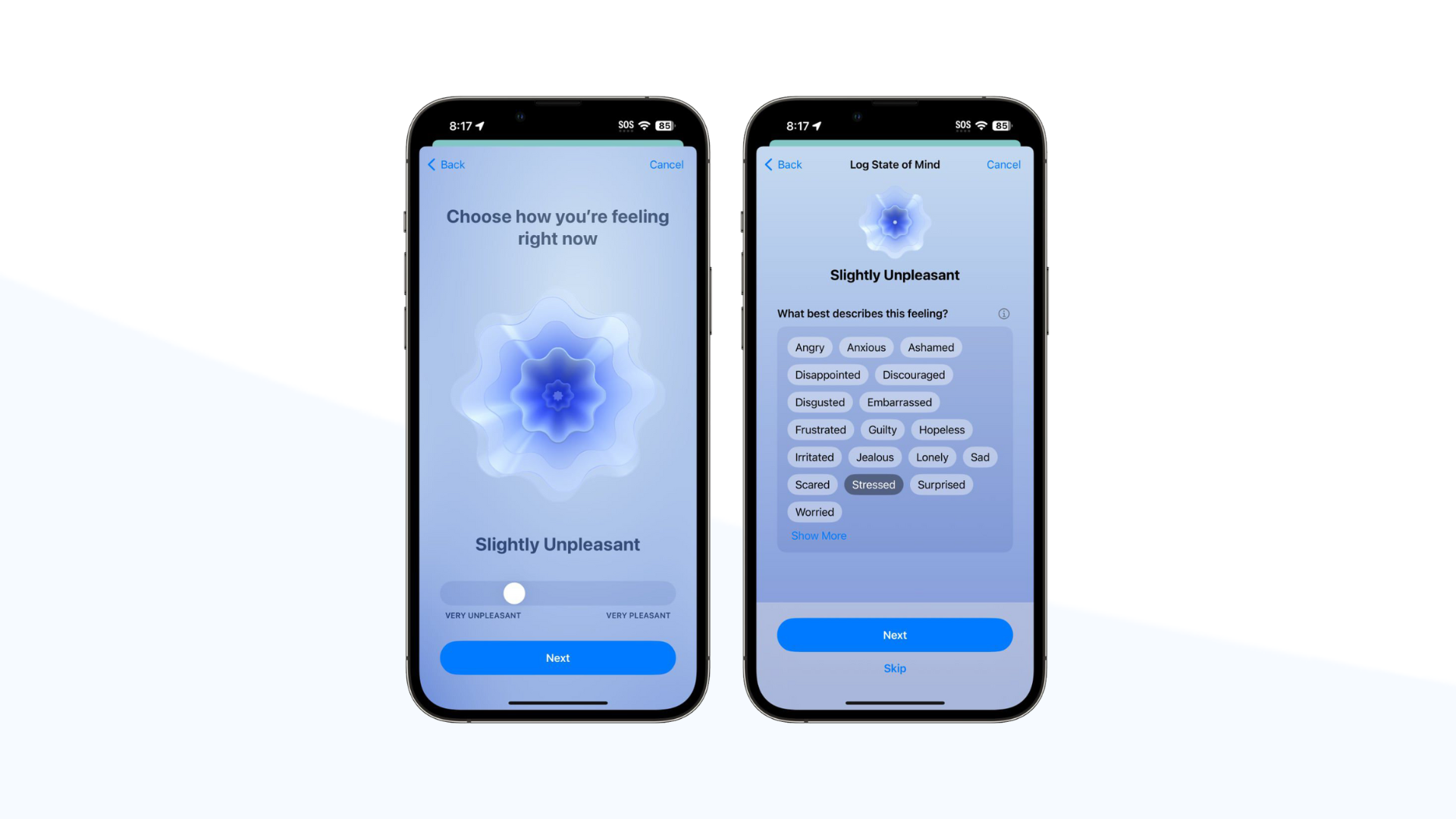 Detail of Apple's mental health tracking feature in iOS 17.
Limited Features and Interoperability
Which is also the source of our frustrations. As it exists now, the feature is still pretty basic. It involves logging your current mood and tagging potential contributing factors. While helpful, the actual mood tracker does not pull in data from wearables or other external resources like a weather app. The risk is that without fuller journaling features and integrated data tracking it is seen as a novelty item whose engagement will wane over time.
But the bigger concern is that even if Apple's journaling feature is wildly successful and its feature set grows, its existence as a proprietary platform ultimately means that many people with health conditions will be unable to take advantage of it or share their findings with their physicians. As a walled technology garden, only people with Apple devices will have access to the feature and potential future integrations.
The industry needs – and patients deserve – a powerful journaling feature capable of customizations and integrations that is universally available and able to be shared across systems and platforms. Patients must be at the heart of any solution and in full control of what it tracks or imports and how it's shared. Only then can patients realize the full potential of journaling to help them better understand and tell and resolve their health journeys.
A Win for Journal My Health
We think Apple's news is such a big win for us both today and down the road.
Journal My Health remains committed to offering a powerful, platform-agnostic and user-controlled service that brings clarity and confidence to the management of chronic conditions. Today, our users can connect and log data like diet, weather, periods and more to better identify the hidden triggers and symptoms that are influencing their health. We make it easy for people to see, understand and analyze the many factors influencing their daily health so they can better manage their conditions (alone or with their care teams).
Apple's addition of mood tracking will shine a bright, important light on journaling as a vital health practice. It will also highlight the limitations of its own solution. Both of which have the potential to bring more people to Journal My Health so they can find relief and empowerment as part of their health journey.