In recent years, Big Tech has gotten a bad rep. But of course many tech companies are doing important work making monumental positive changes to society, health, and the environment. To highlight these, we started a new interview series about "Technology Making An Important Positive Social Impact". We are interviewing leaders of tech companies who are creating or have created a tech product that is helping to make a positive change in people's lives or the environment. As a part of this series, I had the pleasure of interviewing Tracey Welson-Rossman.
Tracey Welson-Rossman is a founding member and chief marketing officer at Chariot Solutions, a Philadelphia area enterprise application and mobile development consulting firm, and the Founder of Journal My Health, a health journaling app that helps patients and medical teams more effectively diagnose, manage and treat various health conditions. She is also the Founder of TechGirlz, a non-profit organization dedicated to inspiring middle school girls to consider careers in technology, and advocate for women in the technology industry.
This is an interview with Luke Kervin, Co-Founder of PatientPop. It was originally published on March 6th, 2022, by Authority Magazine. The original can be found on Medium.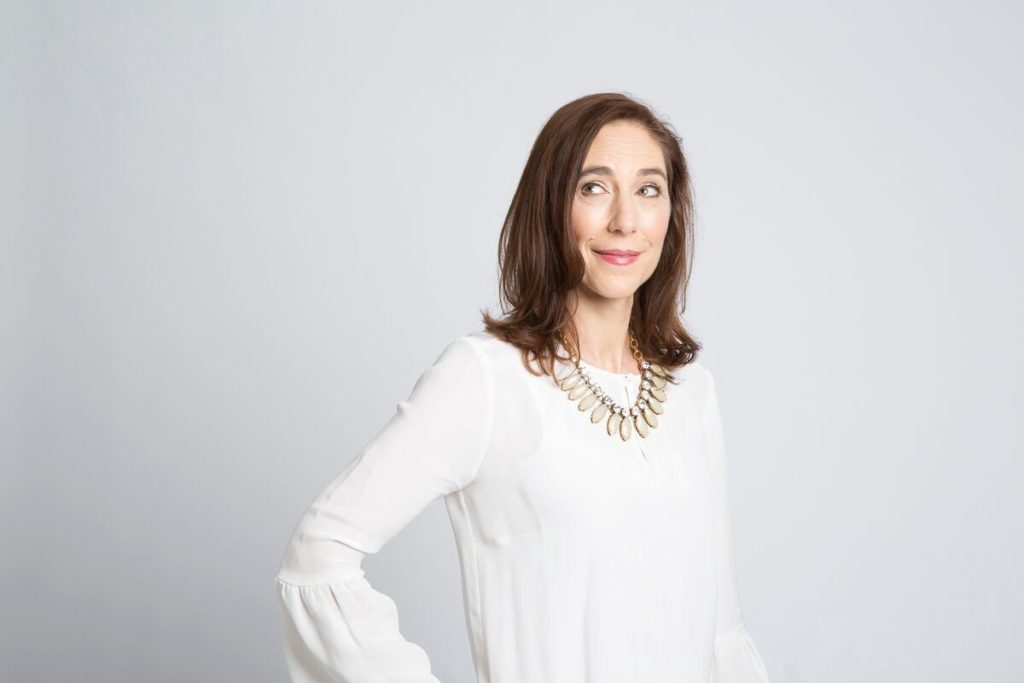 Luke Kervin: Thank you so much for joining us in this interview series. Before we dive in, our readers would love to learn a bit more about you. Can you tell us a bit about your childhood backstory and how you grew up?
Tracey Welson-Rossman: My dad started as a programmer when he came out of college because jobs for an economics/history major are few and far between. Honestly, I never really understood what he did, and his work didn't directly influence me to get into the tech world, but my career path was similar. After selling a business I was operating called KangaKab, I was in between jobs. My husband, Steve, is in the accounting world, and as I was looking in the paper (remember that?) I see this job that says, "accounting software" that is down this street from our house. Combining accounting (my husband) and technology (my father), and incredible convenience felt like fate. I went in, saying this is the job for me.
LK: Can you share the most interesting story that happened to you since you began your career?
TWR: That would be the story behind the genesis of Journal My Health. I was in a bad car accident years ago which left me with chronic pain. While trying to understand my condition and clearly communicate my experience to my physicians, I began tracking things that seemed to aggravate how I was feeling. I started journaling everything with pen and paper. It was a tedious process and when I went to the doctors' offices we had to take time to review everything. I thought to myself there had to be a better way to do this. Years later after working on so many software and application development projects at Chariot Solutions, I knew there was a better way to help those with chronic conditions understand, manage, and communicate their health story. This is why I started Journal My Health.
LK: None of us are able to achieve success without some help along the way. Is there a particular person who you are grateful towards who helped get you to where you are? Can you share a story about that?
TWR: I don't have just one person. There has been a village of people who have helped me along the way. My husband, Steve, has been a huge supporter of everything I have done. The young kids of TechGirlz, the company I started to help middle-school aged girls learn the tech business, have also been a huge inspiration. Additionally, all the women who I have worked with, learned from and continue to meet in the tech space. They have all been inspirational to me.
I was in a bad car accident years ago which left me with chronic pain. While trying to understand my condition and clearly communicate my experience to my physicians, I began tracking things that seemed to aggravate how I was feeling. I started journaling everything with pen and paper. It was a tedious process and when I went to the doctors' offices we had to take time to review everything. I thought to myself, there had to be a better way to do this.
LK: Can you please give us your favorite "Life Lesson Quote"? Can you share how that was relevant to you in your life?
TWR: "I learned that fear is the false belief that there is nothing you can do." — Katie Pruitt (singer/songwriter — lyric from the song Expectations). I feel like I can identify with this right now particularly. As much as I have been a starter of things, I didn't think I had the guts to be a startup entrepreneur. Doing all the difficult things like raising money and putting myself out there, seemed overwhelming at first. However, I have learned to not let fear run my life and to take the initiative to finish what I start with no excuses along the way.
LK: Let's now shift to the main part of our discussion about the tech tools that you are helping to create that can make a positive impact on our wellness. To begin, which particular problems are you aiming to solve?
TWR: Forty-five percent of the U.S. population suffers from a chronic health condition with 25 million people suffering from autoimmune issues with women at greater risk for both. It is believed that approximately 20 million women in the U.S. are managing autoimmune diseases.
Journal My Health was developed to help patients who suffer from these chronic conditions, and even patients who don't know what is ailing them yet, figure out what sets off an episode and to help doctors more effectively and efficiently treat the patients with these types of conditions.
LK: How do you think your technology can address this?
TWR: Journal My Health serves as an always on-hand central gathering point for information. Patients personalize the app by selecting the symptoms specific to their condition, such as fatigue or shortness of breath, and then identifying the medications or treatments they are employing.
Users input subjective information by gauging the status of their symptoms and recording treatments, along with evaluating mood, stress levels, and sleep patterns. The app's Notes section allows patients to chronicle medical appointments, record lifestyle occurrences, and detail other relevant observations.
Simultaneously, the app's health tracker incorporates objective information, such as heart rate, activity, and exercise obtained from smart devices. Environmental factors including temperature, humidity, and barometric pressure are also incorporated.
Patient data, which is anonymized in the Journal My Health system to protect user privacy, is seamlessly transformed into time-based graphs of symptoms and related inputs. This visualization makes it easier for patients and their providers to identify trends and triggers that may be impacting their condition.
These findings are easily shared with doctors presenting hard data and symptom patterns that help them quickly understand what is happening, develop better treatment plans, and in some cases diagnose what is ailing a patient.
LK: Can you tell us the backstory about what inspired you to originally feel passionate about this cause?
TWR: About twenty years ago, I was in a serious car accident and since that time I have suffered from chronic pain. I spent years formulating the right combination of doctors, therapists, medications, exercise, and diet to help me deal with my pain and once I felt I had established the right team and lifestyle balance, something would change and the quest for managing my condition began all over again.
This journey imparted me with unique insight into the necessity of vocal and active patient participation in medical care. The ability to chronicle and understand the nuances of my chronic condition gave rise to meaningful improvements in communicating with my healthcare team and, ultimately, my wellbeing. To that end, I journaled my symptoms, physical and mental conditions, activity level, sleep patterns, treatments, diet and even weather conditions.
As a busy working mom, capturing this volume of data was challenging and time-consuming. Sifting through the information to uncover patterns and dependencies was nearly impossible. And figuring out how to effectively communicate all this during brief medical appointments was frustrating to me and my medical teams.
However, as an IT consultant, I knew a mobile app would be a great solution and I eventually came up with Journal My Health.
LK: How do you think this might change the world?
TWR: When reports emerged of up to one-third of COVID-19 patients developing some form of Long COVID, with symptoms persisting for several weeks or months, and even triggering other latent chronic conditions, our team decided it was time to get Journal My Health to market.
Our mission is to ​​create better healthcare outcomes for those with chronic conditions, like the patients dealing with the mysterious lingering effects of COVID. We're empowering patients to take control of their health by monitoring their conditions and gaining insights into the factors impacting their wellbeing and quality of life. With Journal My Health, users can efficiently, privately, and credibly share this data with their healthcare providers to inform their diagnoses and develop targeted treatment plans.
Chronic conditions impact women more often than men and 80% of individuals with autoimmune diseases are women. These are often difficult diseases to understand and diagnose let alone treat. Bringing clear data to the physician is essential to ensuring female patients' observations are being heard and considered.
LK: Keeping "Black Mirror" and the "Law of Unintended Consequences" in mind, can you see any potential drawbacks about this technology that people should think more deeply about?
TWR: Digital health records, which are anonymized in the Journal My Health system to protect user privacy, deserve assiduous protection. When dealing with health-related data, there are always the concerns about personal privacy yet, there is always the hope that anonymized, aggregated data can be leveraged to help those who suffer with similar conditions and enlighten those who treat them. Successfully managing the protections and processes when balancing these priorities is crucial.
LK: Here is the main question for our discussion. Based on your experience and success, can you please share "Five things you need to know to successfully create technology that can make a positive social impact"?
TWR:
Make sure your tech solves a real problem — Tech that is most successful solves a real-life problems. Developers should stay away from developing cool tech that must search for a problem to solve. Those apps aren't as successful as there isn't a ready need for them.

Understand the user — Part of your development and research must include a phase devoted to understanding the user. In developing Journal My Health, I knew firsthand what other people in my shoes needed, but also did a deeper dive to examine other perspectives.

Research your competition — Identifying what other products are addressing the issue, where they are failing and why is important. When developing Journal My Health, our team found 50–60 apps that tried to address this issue, but none of them were succeeding for a variety of reasons. We buckled down to create a product we believe is the best on the market.

Work with others in the ecosystem to make progress — For Journal My Health physicians, psychologists, and even associations for those living with autoimmune diseases influenced product design and go-to-market strategies.

Create and market test an MVP before building a comprehensive product — Don't build out the complete vision of your product before going to market. Start with the minimum viable product (MVP) and grow from there as you learn how users are interfacing with your product. For example, individual female users told us that they would like to have a "period tracker" in the app because their conditions were impacted by hormonal cycles. When we surveyed users, 70% of women ranked that feature the one they most wanted to see added to the app.
LK: If you could tell other young people one thing about why they should consider making a positive impact on our environment or society, like you, what would you tell them?
TWR: The only way to solve issues as a society is when people take chances. It doesn't have to be something huge, it could be something very small. However, big or small — taking that first step is the only way any impact will be made.
LK: Is there a person in the world, or in the US with whom you would like to have a private breakfast or lunch, and why? He or she might just see this, especially if we tag them.
TWR: People who are talking about their chronic condition to raise awareness and inspire others, particularly those who are using their platform to support others dealing with similar issues, are of interest to me.
Selma Blair has been that not only for those with MS but for people with all matters of chronic conditions. I believe that those that have to get up and manage health-related challenges day in and day out, small aggravations, or tremendous hurdles are revitalized to see her talking about and showing us what is happening to her and the brave steps she is taking.
LK: How can our readers further follow your work online?
TWR: Our website. You can also also view content from our latest seminar on women's health. Our Facebook page also has a great deal of information, resources, discussion and Facebook Live events.
LK: Thank you so much for joining us. This was very inspirational, and we wish you continued success in your important work.