New Function Allows Users to Better Understand How Hormonal Cycles Impact Chronic Conditions and Autoimmune Issues
Journal My Health, a health and wellness symptom tracking app designed to provide patients and their physicians more complete symptom awareness, has added a menstrual cycle tracking capability. The new function will allow women living with chronic conditions to track their cycle and understand how it impacts their wellbeing. The period tracking function supplements the app's existing ability to holistically monitor and document multiple symptoms, medications, environmental triggers, and physical activity that impact how an individual, and their health professionals, manage their health.
Journal My Health users and medical advisors requested the addition of this new function, knowing that hormonal cycles impact how chronic conditions present themselves. When surveyed, over 80 percent of female Journal My Health users listed this as the capability they would like to see most added to the app.
Journal My Health serves as a central gathering point for key patient information, allowing patients personalize the app by selecting the symptoms they wish to track and then identifying the medications or treatments they are employing. On a daily basis, the app incorporates objective information, such as heart rate, and activity level, obtained from smart devices; external factors such as weather; and user-reported symptoms to help patients and their medical team understand what is impacting their condition.
The new period tracker will allow users to see if health issues, such as fatigue, worsen during the user's menstrual cycle. Information gathered from the app can help users differentiate if their sleep patterns changed or if hormonal changes are contributing to increased fatigue. With the help from their medical team, the user can then treat the issue appropriately.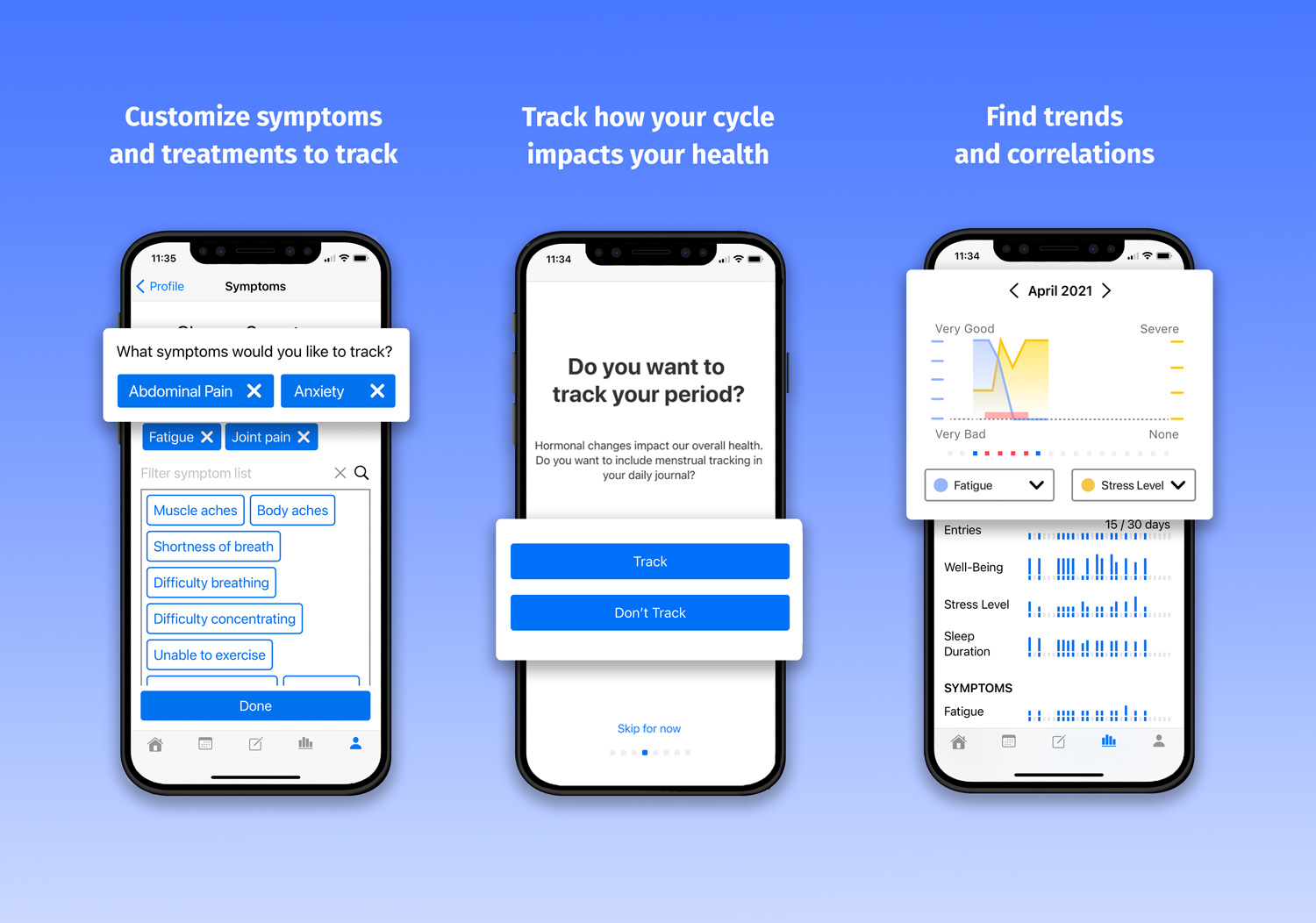 It's believed that 45 percent of the U.S. population is dealing with a chronic condition and approximately 80 percent of all patients diagnosed with autoimmune diseases, a form of chronic disease, are women*. Additionally, 78 percent of people over the age of 55 are dealing with at least one chronic condition, with 80 percent of that total being women, according to the National Institutes of Health.
"We added this function to give a voice to what women are feeling and experiencing during their health journey," said Journal My Health founder Tracey Welson-Rossman, who developed the app because of her own battle with chronic conditions. "My experience is only one small example of why having personalized, hyper relevant intelligence is crucial to understanding the best way to manage a chronic condition."
Journal My Health recently sponsored a webinar on women's health which exposed the lack of medical research on the connection between women's health issues and their menstrual cycles, pregnancy and menopause, and the impact hormonal changes have on chronic conditions.
"Hormones are constantly changing throughout your life," said Dr. Joanne Kakaty-Monzo, an Obstetrician/Gynecologist at Main Line Health (PA) during the webinar. "Each person is different, and the factors range from when you start menstruating, to how long you are in your fertile years, to your age when you go through perimenopause and start menopause, what your estrogen life is like, to how many babies you had. There are so many factors. My advice is to be your own advocate through journaling and surround yourself with a medical team that listens to you."
The Journal My Health team reviewed other cycle tracking applications in hopes of integrating one into the current platform. However, they found that those applications required information from the user that related to sexual health or infertility. Welson-Rossman decided that straightforward period cycle tracking all that was needed by Journal My Health users, so the team developed the capability from scratch.
Welson-Rossman founded Journal My Health after having her own journey with a chronic condition that stemmed from a car accident. This experience gave her unique insight into the necessity of vocal and active patient participation in medical care. Journaling on paper was a challenge, time consuming and difficult to communicate to doctors. However, as a founding partner of Chariot Solutions – an IT consulting firm specializing in software development, systems integration, and mobile application development – Tracey developed and launched Journal My Health in April, 2021.
---
About Journal My Health
The Journal My Health app is a health and wellness symptom tracker designed to provide patients and their physicians more complete symptom awareness. The app serves as a comprehensive repository of health and activity data gathered from smart devices and combined with personal evaluations of a patient's symptoms.
Designed for those suffering from chronic conditions, Journal My Health empowers users to easily capture and visualize the clues within their unique health data – including heart rate, activity, medication schedules, sleep patterns, mood, stress levels, weather conditions, and more. This data is easily shared with healthcare providers for improved diagnosis, treatment, and outcomes. Built by Fort Washington, PA-based Chariot Solutions, Journal My Health is driven to bring the benefits of health journaling into the digital age. Learn more at www.JournalMyHealth.com or download the app for iOS or Android.
*Female predominance and X chromosome defects in autoimmune diseases. Invernizzi P, Pasini S, Selmi C, Gershwin ME, Podda MJ Autoimmun. 2009 Aug; 33(1):12-6.